---
Riedell Spark Review
Reviewer: Bernhard Scheffold, review date: April 2014
Thanks to the revival of Roller Derby you can buy complete roller skate setups. Not just any kind of setup, but high quality ones. I want to report about some first experiences with a setup uniting two legends: boots by Riedell and Rollerbones by Powell. The skates are available off the shelf with green Radar Flat Outrageous wheels with hardness 88A. Since this hardness seems a bit high for usage on rough asphalt, I have changed the wheels to Rollerbones Day Of The Dead Quad Wheels in 80A, which is only a little harder than the 78A Kryptonics wheels I use on my self-built road skates. But at first I did a few rounds with the Radar Flat Outrageous to see how they do on normal asphalt.
Original Setup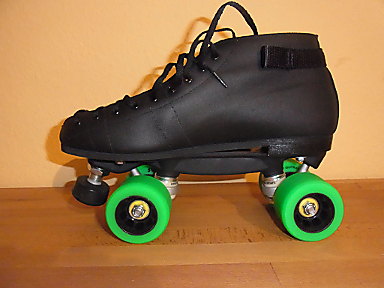 Boots: Riedell Spark 122 Size 10
Plates: PowerDyne Thrust Nylon with aluminium trucks
Wheels: Radar Flat Outrageous Green
Bearings: Kwik Abec 7
Stoppers: PD Round Black
My shoe size normally is 9.5, but the size 10 Spark boots fit my feet well and give good support. Presumably the lacing is doing its part here, extending all the way to the toes. In this way the shoes can be adapted to fit snugly to the feet. The fortification of the heels ensures good support. An inital skepticism that support wouldn't be sufficient because of the low boots is therefore unfounded. Riding the setup for a few kilometers tell me that the boots don't need a long break-in. With many other boots the feet would complain by now, there would be blisters or similar ailments. Not so with the Riedell boots. The wheels and bearings are very good, too. With smooth asphalt you can glide effortlessly. On rough asphalt, it gets tiring, especially when the ground is rising. Conclusion: A setup which guarantees a lot of fun even in the original configuration and which raises curiosity about how it will perform, when the wheels are more suited to the surface structure.
Road tuning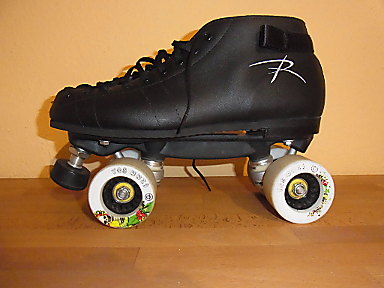 Boots: Riedell Spark 122 Size 10
Plates: PowerDyne Thrust Nylon with aluminium trucks
Wheels: Rollerbones Day Of The Dead Quad Wheels
Bearings: Kwik Abec 7
Stoppers: PD Round Black
I take the skates with me to Italy on a vacation trip. The asphalt there is even a bit rougher than in Germany. While changing the wheels I notice that there are no spacers between the bearing. But except for the Powell wheels everything stays like before. Shoes to the feet and skates to the ground: They can hardly be kept at bay and almost roll by themselves. Even on slightly falling ground which you almost wouldn't notice as such you get a racy downhill feeling. Back uphill: Effortless despite the rough asphalt! In spite of the missing spacers the skates are so fast that I have to pay attention not to accelerate them too much. A brake test with the stoppers that come with the skates revealy that they are very grippy. Their braking effect is stronger than with the Kryptonics stoppers I normally use. I have to see how long they hold up with usage, but the abrasion after a few usages is minimal.
In this combination a road setup which I can recommend without reservation.
Availability
The Powell Rollerbones and original setup, along with many other roller skates, can be found at skates.co.uk.