---
Interview with Attila Aszodi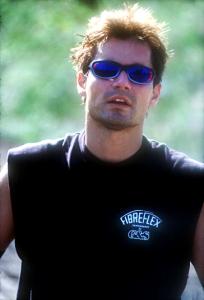 One day I found a message from my friend Georg Kube in my email mailbox. It contained a link to the site of G&S Fibreflex and one question: "Look, isn't this our Attila from the days gone by?" Georg was looking for a shape for a slalomboard he was going to cut out of a used snowboard and came across the site.
I klicked on the link and saw a slalomboard with the thin G&S Fibreflex design how I had it in my mind from way back in time. I owned one too then (The devil knows where that thing ended up). It read "Design by Attila Aszodi"! I was blown away ... is it possible that ...
I left it but got curious in the end. I ended up writing an email to G&S and got an answer right away including Attila's emailadress. I wrote an email to him and found out that he is living in LA and is a slalom pro for G&S. A heavy email traffic ensued and I finally decided to do an interview with him for Sk8Mag.de.
Read it and enter the world of slalomskateboarding.
Attila Aszodi has been interviewed in Januarv 2002 via EMail by Chris Eggers.
Quotes
"Attila is so enthusiastic about slalom.  He was the first guy to e-mail me when my address appeared on e-bay.  He is a man of a skater.  Pound for pound, he's probably the strongest athlete on the circuit.  Thank God I haven't drawn him in a man on man yet." Henry Hester
"I remember skating with Attilla around 1979. We were freestyling in Karlsruhe in font of the Schloss. He was very much into kick-flips and stuff like that. Also, there was that public fountain in one of Karlsruhe's parks. Because of the statues of nude women, we used to call it the "porno pool". When it was empty in the spring, we ripped it a lot. Well, and then we lost contact. All I knew, was, that Attila was living somwhere in Baden-Baden. Lot's of memories!!" Georg Kube
"Attila is a self motivator who has designed some of the best slalom boards on the market today he is always working on improving his boards and ability to ride them. He is very knowledgable in the skateboard industry, and an all around good guy. Check out his "Response" board at:
www.fibreflexskate.com
"
David Anderson
"Attila is one of the few "Euro" skaters actively competing on the USA circuit. He has helped Deb Gordon of Fibreflex jump back into the slalom deck market ... no small feat indeed. The new fibreflex wheel is well received. Attila's riding style is centered more towards tight slalom. His racing technique is advanced and he is one of the few riders who is quick to try any new technology (such as front truck slalom bars) to see if it bears him an advantage. Atilla was seen wearing chest protector racing armor at The Cambria race last summer- it seems to have boosted his ability to push his limits. With some practice and course setting on steeper terrain he should begin to place in the top 15 in GS and continue his success in tight slalom." John Gilmour
Interview
You live in LA but I got to know you in Germany a long time ago. How did you end up in LA and what made you stay there?

It had been a dream of mine to come to Los Angeles ever since I first visited here in '77 to skate. I eventually moved to LA in 1984 after I finished my civil service in Germany to study film and drama. Ironically, I had stopped skateboarding completely in 1981/82 and sold most of my gear prior to moving here.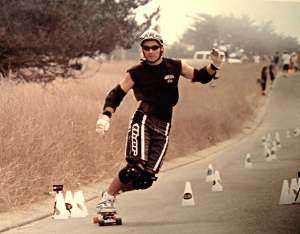 You just recently started again. How did that happen? What made you do it again?

I tried to get back into skating for a while in the mid 80's but it didn't feel right. Skateboarding had become too aggressive and I didn't like the attitude out on the scene. I didn't seem to have the soulfulness and spirit from the 70's. Slalom and Freestyle were pretty much fading and I was getting too old to maintain my skills at vert. A motorcycle accident I suffered in '84 kept me in the wheelchair for almost a year with multiple fractures--skateboarding was the last thing on my mind. In late 1999 I drove by a skate shop in Studio City, California and saw a Sector 9 board displayed in the window. Somehow I was drawn to this and walked in, stood on it and remembered that flexy fibreflex feel. It was a longer board and seemed perfect for cruising. I paid the $ 135.00 and was excited like a child. The sales person told me about a website called NCDSA, (northern california downhill skateboarding association). When I got home I went online and found a link to Ritchie Carrasco's website. I remembered him from the old days and was always fascinated by his abilitiy to pop 100+ consecutive 360's. I remember taking some footage of him at a contest in Del Mar in '81. I couldn't believe that he was still doing this and was still involved with skating after all these years, I mean he had to be at least my age, right. So I email him telling him how great it is that he's still into it and that I always respected him for his tremedous skills. He emails me back and after severeal conversations he tells me about slalom and these west LA college events and practices with some guys and that I should stop by and hang out with them. I thought wow, a practice at a school--how exiting could that be but I wanted to meet him and at least see him spin again. 2 weeks later one of the WLAc events came up and I went. To my surprise, the hills were very fast and the GS course was impossible for me to make. ritchie told me to take it easy and just cruise. I participated but couldn't make the hill, too fast, too old, wrong board. But it felt great to be back out there and just to watch these old guys rip up the asphalt and skate fast, faster than I had ever skated in Germany. Word was that these WLAc races were planned frequently so I hooked up with some of the skateshops and invested some money in some slalom gear which , 2 years ago, was very limited. Ritchie kept me posted about another race and through this period we became good friends. The next race was to include tight slalom which used to be my specialty. This was on November 19th 2000. A guy from Boston flew in, John Gilmour and demonstrated the fastest slalom I had ever seen in my life. We all stood there and just watched in amazement. At race time Chaput, Ritchie , Joh and I were getting ready. This was my first official race in 20 years. I borrowed a G&S fibreflex cutaway from a friend and did my first run. At the bottom of the hill just as I was going through the finishing line, my front foot slid to the side and I couldn't turn the board, somehow I lost control and fell forward, separating my shoulder and suffering a fracture to my elbow and a concussion. I went to the emergency room and thought great- I didn't even finish. 3 days later I went online to find out that I actually still finished 4th right behind Ritchie, Chaput and the phenom Gilmore. First thing that came to mind was that "I'm back!" I have to race again and I can take on everybody, crazy!

I found out you have a board in the G&S Fibreflex line designed by yourself. How did that happen?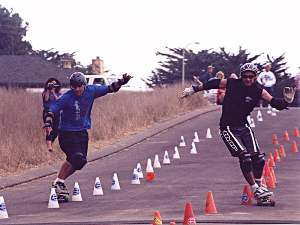 I met Debbie Gordon Saili in '99. To this point I didn't even know that G&S / Fibreflex was still in existence. One day I saw a G&S longboard on ebay for sale, (which I ended up buying). It was exciting for me to see they were still around that after all these years especially since I practically grew up riding these boards in the 70's. These new boards were also being sold at various online retailers but all the boards G&S made were the newer longboard carving decks. None of the classic freestyle or slalom shortboards were available or manufactured at that time. As a matter of fact, no US skateboard manufacturer offered a slalom board at that time, period. Thanks to ebay, I was able to start a vintage slalom collection so that I would be able to ride and compete again. Doing that was like going back to my early riding days. It totally brought that feel back. I was completely hooked! I met some incredible people during this time some of which never stopped skating through all these years. People I had heard of in the 70's came from everywhere. In any case, I started collecting classic trucks and wheels as well since nothing that was manufactured at the time was suitable for slalom. Somehow I knew that the time was right to get new slalom gear on the market and I kept thinking, G&S needs to introduce a new competition slalom board and re-introduce some of the old designs-the time for the classic vibe was right--I would certainly love to be able to buy some of the reissues such as the kicktail, teamrider, hester and slalom models. I always loved fibreflexes which to me was what skateboarding was all about--there was a certain weightlessness and ease about these boards when you were riding them, a free spirit, sort of what I had envisioned California to be like when I still lived in Germany. I got Debbie's contact information online and called her one day. We immediately clicked and sometimes talked for hours, reminiscing about the old days and how cool it would be if G&S started making the classic boards again. I told her that there seems to be this ressurgence of slalom and old school skateboarding taking place and people just keep coming out of the woodworks, some of them well known skaters. There was this underground racing scene developing, it was strange, almost like an awakening that happened to many of us simultaneously. She told me that she was actually getting ready to run the company and that one of her dreams was to start working on the classic re issues. She was starting it all again all by herself and I told her that I would help her as a photographer for her advertising needs and became a creative partner early on. At one point I suggested that G&S should consider introducing a new pro level slalom board but still incorporating the classic fibreflex overtones. She was very excited about this idea and asked me to come up with various designs. I had a good idea about what would work and how the board should look. I presented her and her father, the legendary Larry gordon (who still is a zen-like creative partner) several designs which would fit in with the classic reissues such as the classic slalom, slalom cutaway and the Hester. Larry and Deb picked the shape they liked most and several months later, after getting the specs and manufacturing down, the "response" model was born. This was in April of 2001.

I assume you cannot make a living through skateboard slalom racing. What is your profession? Some private stats: are you married? Do you have children?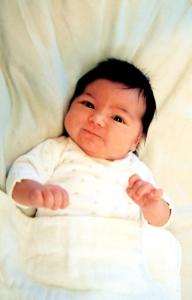 Making a living at skateboarding, especially in slalom or racing is difficult,. there are only very few skaters such as Biker Sherlock and Lee Dansey and a few others who, mostly because of the X-games or Gravity games, are able to market and franchise their names on a lucrative level. But this is mostly downhill and luge racing. However, as the price monies are increasing in pro slalom racing, I 'll be hopefully able to make a couple of bucks in the future--I still have a few years ahead of me. All this has only just begun :0) I make my living as full time photographer, shooting mostly people and events in Hollywood. Recently, I have also been shooting for International Skateboarder Magazine Cover of Dec 2001 issue)and expanded my work to Skateboard advertising (recent G&S fibreflex ads). I have been married since '92- no kids yet. (This is not true anymore: Baby Bianca Isabella Aszodi arrived Sunday 24. 11. 2002 at 3:05 am , @ 8.3lbs / 20"'s.)

It really sounds like your early dreams have come true. Is living in the USA like you had expectes it to be like? What are the major differences to living in Europe? What do you miss the most?

Yeah--I am also at the age where I can appreciate it more and make the mostof it. Living here has been quite different from what had I expected. For themost part, as a photographer and actor, it is extremely competitive and discouraging most of the times. I did ok with my acting for a few years while I was also photographing (mostly actors) and painting (oils on canvas) for aliving. But the constant pressure of having to market yourself all the time and dealing with rejection was too much. In '93, after I got married I decided to get out of acting entirely and focus on photography, which was something I could always create and something people always needed. I also stopped painting altogether. It all stopped like I stopped skating in '81--I never looked back. The pressure of living here, however, still remained as living in LA demands a certain level of performance all the time, especially when you are from another place. You keep telling yourself that you came here to succeed and to be successful, even with all the sunshine it is very hard to relax and to just let go. That is why I am so thrilled to be back in the skating arena. Having met all the new people in recent times and gotten back to do what I used to love so much has given me the total balance. Something I was missing for all these years. It also helped me to realize that I am very competitive and that participating in races is something I need, period. Competition has always been part of my life, even in my work so this rediscovered form of expression is ideal. It also gives me more energy, focus and enhanced creativity at work. Most importantly, it gives you more courage in dealing with new situations. LA is such an isolated scenario from the rest of the US that it would be unfair to generalize the differences between America and living in Europe.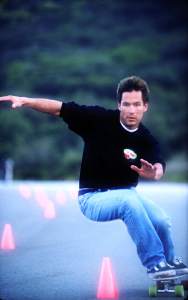 As for living here, you will realize after a while, that the level interpersonal contact is not as deep as in Germany. Your daily exchange with most people is more superficial over here. People are friendly and smile more but it is more on the surface. It seems that, because most people come to LA to be in Showbiz, they carry a chip on their shoulder, something they have to overcome, something they have to prove, something they are very vulnerable about and they try to cover that as much as possible by keeping a nice facade. Friendships are difficult to make here and hard to maintain. Most of my friends are from outside of LA. The system is quite different here as well. Insurance and health benefits are always an issue. Something that is well taken care of in Europe most of the time. Vacation time at a job is much shorter (2 weeks usually),  people eat heavier breakfasts on weekends and dinner is never before 8pm, more people are on diets and yet there are more overweight folks out here than anywhere else in the world. There are more contradictions to be found here than anywhere. Americans thrive on controversy, that is what makes this country tick. It is also an extremely homophobic society. People who are straight (not gay) make sure to let the rest know how straight they are. If you meet somebody new and you want to be friends with them, a lot of times they might wonder if you're gay instead of saying hey, let's be friends or what a nice person. You actually start thinking this way yourself, rather sad. I remember when I moved here, the way guys dressed was rather pathetic, this was before Ralph Lauren and Banana Republic come on the scene. There was no style, no attempt in wearing colors--pastels were practically outlawed, if you didn't follow a certain trend you were either gay or weird. In Europe this was never the case, people weren't afraid to express through their clothing. Sexuality plays a key figure here in the US--it is so hyped up in the media that you might think that America is an extremely open and comfortable country, sexually. But the pathetic reality is that sex is looked upon as something almost forbidden, there are so many laws that will put you in jail because you took your shirt off in public, or you made a false remark to a coworker, or you looked at somebody in a different way. You will never see nudity on TV, no topless commercials for soaps or shampoos. In Europe, people are comfortable with their sexuality, they don't mind showing their bodies, it is something natural and not weird--here it is something that is very suppressed. Yet, people more about sex and express more about sex in movies and music than any other country in the world. It is the strange and mysterious American paradox. I am still trying to understand it--somebody once told me that this general attitude traces back to the pilgrims who came to America- extremely prudent and conservative, their presence is still being felt around the country. You can think out loud but you cannot act out loud! Another difference to Europe is also the fact that people don't walk around here, everybody has a car and uses a car to go shopping or to work. Again, LA is a different case since it is very large city but one thing that is distinctively different is that this city has no core, no city as in most European cities, no center where people just walk or just hang out at cafes. Only recently, mainly because of Starbucks and all the coffee houses opening, people are starting to absorb more of a European street style (they don't even know it :-0). I miss walking in the city and looking at old architecture, I miss seeing culture wherever I turn or look at. You are surrounded by it in Europe. Here, you see new malls and flat buildings and convenient stores. I miss running into friends on the street and just going to a cafe and talk. I miss the weather (strange right?). I miss my family. I miss being able to hitch hike or just hop on the train and be in another country within 2 hours. Now I also miss Paris and being able to be at the Trocadero within 5 hours and set up a slalom course.
On the other hand life in the USA offers you life style benefits and possibilites you wouldn't find anywhere else in the world. California  especially is extremely multi ethnic and although racism and discrimination can be found here as anywhere else in the world, there is no other place in the world that spreads its wealth more evenly on a multi ethnic level as the US. Here you must dream and follow your dream and things might just break. However it is also important to understand that LA is extremely competitive and the best of the best come and reside here, trying to get that big break everyday. Everybody wants to come here for that reason. For some it may happen quick, for most it may never happen. But one thing is certain, this a place that is always seeking special skills and talent and is always looking for people with ideas and originality. There is no other place like it! It doesn't matter where you are from or what color your skin is as long as you are unique and persistent! You never feel like a stranger over here, life is more laid back and the weather always inspires you to be outgoing and positive. Before 9-11 people would always be interested in finding out where you are from beacuse of your accent or your looks but in a positive way. Things are slowly getting back to normal again. I think in Europe you feel more prejudism because of exactly those things--you are looked upon as a foreigner more often. Here, it is easier to open doors career wise, especially if you are in a creative environment. Most people I know make their living doing many different things, most of them have 2 or 3 jobs so that they can afford to support their creative careers, it is hard work for most but the payoff can be more glamerous than enywhere else. Your training and schooling don't weigh as much as in Europe--you can still be quite succesful in the US without a college degree--something hard to imagine in Europe. Connections are also very important over here but they are not that difficult to make as long as you have a positive atitude and are outgoing. The dress code is also far more casual over here than in Europe, more relaxed, shorts, t-shirts most of the time, all of these things take the serious edge out of your daily life, a quality I value quite a bit.

Do you also watch other aspects of skateboarding as it evolves around you? What do think about it?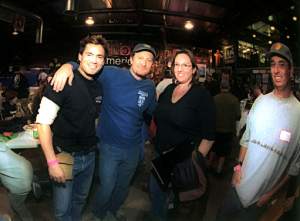 I don't follow the other types of skateboarding too closely. I live right around the corner from Val Surf, one of the biggest skate shops in LA and go there frequently to buy hardware and stuff but I'm not into all the stuff that's hanging on the walls or even the videos they constantly show. But I think that skating, especially street and vert is on another level of performance and skills as I have ever seen. The stuff kids do now is something I would have thought of as impossible back then. It is truly amazing what they can do and with such ease. But when you see all the magazines and videos you'll realize that it is all pretty much limited to rails and benches--after a while it all looks the same. You can see that skateboarding has become very corporate and marketing driven. It seems that street & vert skating has reached a platform which will remain for sometime but what is interesting is that the skating scene is starting to change around  those kids since we (us old slalom farts) are exposing them to our sport, something they have never seen or thought about doing. This will only get better with the release of the dogtown z-boys movie which will be out soon. More and more younger kids are getting stoked on it--that's the reward! I think the days when slalom is being shown on the monitor at Val Surf might be closer than we think- that would be something!!!

Since you are pretty involved in the growing slalom scene, what do you think will happen in the future? Where will it go?

I think slalom is here to stay. I also think it will grow far beyond where it went in the 70's. It is hard to tell how broad spread it will get but as one of the original and most soulful forms of skateboarding it will hold its audience just as skiing or surfing. You can do it almost anywhere and go as fast as you want, major challenge factor! Also considering the risk that is involved, I don't think there are many sports around that are this challenging and competitive. More and more people are also recognizing it as a challenging alternative to many wintersports, including skiing and most importantly, snowboarding. This is important as snowboarding is finally in the Olympics so I think many people will be able to relate to slalom skateboarding once they see it and try it. As a modern society we are also extremely media driven, thanks in part also to the internet, subsequently exposure is key which will also help the sport. This is the reason why I have recently gotten myself involved in skateboard photography again, to get as many slalom pics into the more mainstream magazines as possible. It's all about awareness and exposure. Finally, what I think makes all the difference is the fact that the folks right now who are bringing back slalom are putting an extremely collaborative and concentrated effort into this whole thing to pass this on to the next generations and to the broader audiences. Some of us are fortunate enough to push this with our financial independence, some others lend their technical expertise through their professions to forward this movement. The grassroots effort is very important and its all happening right now. These are the very best of times and things are looking brighter with each passing week!

It seems to be a thing for the older skaters mostly. Are there younger upcoming riders too?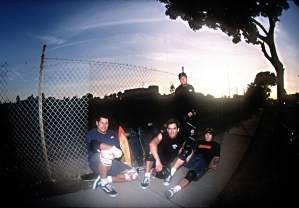 It is the older skaters whom have been bringing slalom back, true. There are skaters, who are 40+ years of age. But some of those guys, including Henry Hester, Charlie Ransom and Steve Evans are seasoned enough to take on anybody in any shape condition, anyday and give them a run for their money. Henry finished 8th at La Costa in 2001 out of 90 racers and Steve Evans, whom I'm priviledged to ride with regularly is getting into his legendary form, definitely a top 10 contender (worldwide) for this upcoming year. Also, Gary Cross (I believe 42?) won the world championship last year!!! In slalom the age is actually an added benefit as you are racing against the clock and strategy, brains and experience are the deciding factor. This means knowing your opponent and how you can psyche him out, know his weakness and use it to your advantage. Keeping a sharp and focussed mind will allow you to fly out of the starting gates quicker. Here, it doesn't matter how high you ollie or how many kickflips you can do. It's all about speed and keeping a good line on the course and keeping your cool. Even weight can be of benefit to you. Some of the fastest skaters including my teammates Eric Groff (aka ARAB) and Ritchie Carrasco weigh 200+ lbs!!! And they won't hold any punches, especially by old standards these guys are faaast faster than I ever remember seeing! All this is important to show the younger kids out there. It is important for them to see that as old timers we can kick their butts on any given day, they love it and want to try and be a part of it. It just blows them away. The beauty in all of this is that we are that little group inmidst the generation of youth that people are paying attention to. Skateboarding is no longer for teens, its for all of us. It's all good fun and kids are getting psyched on this whole thing, they see us set cones and just f...rip them and they go whooaaa, that's f...' cool! That's all it takes. The range is now 8 years to about 51 and the young ones, especially guys like Dillan Gordon and Josh Byrd (Team G&S) have to be seen to believe. Last year we all competed in the same class, out of this world! This year there will be a youth division, amateur, pros and women's division in most of the races. Its all about growing the sport and getting the kids involved is everything. I know we're getting their attention and they are getting stoked on this whole thing!

In the beginning you mentioned the equipment not being available. From seeing a few ads especially in International Longboarder magazine I think this is changing. Where do you think the development in equipment will go to?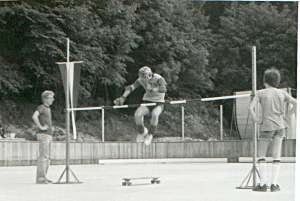 A year and half ago all you could find were classic slalom decks on ebay for top $$$. Trucks were limited to classic trackers, indies and gullwings and wheels, even worse. That said, a complete pro setup could easily run $ 500!!! Good things happened since, G&S started making slalom boards again, Turner came back from obscurity and Ick (Rick Howell) just announced last week that new slalom boards are being made. In other words, after over 15 years of hiatus all the classic board manufacturers decide that it's time to produce again! Yeahh baby!!! New companies such as Comet, Roe, V-12 have recently emerged as well as some of the newer promising slalom deck manufacturers. In other words, there are more pro level slalom companies out there right now than ever before and they are still emerging, why; because here is more demand. There is also a larger variety of materials available which will only make the boards better. Credit must be given to the NCDSA for posting skaters wishes and inquiries, people were listening! Currently, design and materials have been mostly revolving around classic formulas and shapes that have been in existence for a while. This includes the classic G&S maple/fibreglass sandwich type of construction and the foam/glass type boards as the Icks/Turners and Roes. Comet, one of the newer companies has been very successful by incorporating bamboo instead of maple into the laminates and also adding carbon fibre. Each one of these boards has different energy and flex properties which is very specific and desirable by specific riders. Not every board is for everybody. That said, I think new designs will keep emerging based on specific needs from a variety of skaters. The concept and principle of a complete of a "quiver" will hold true for the future which will only challenge new design concepts. Tracker and Gullwing have announced new slalom trucks which is huge news in the skateboarding industry as molds and development for trucks is extremely costly. This is a good sign for the sport and a barometer for the current "slalom climate". Same for wheels; V-12, Kryptonics, G&S, Comet, Turner and Abec-11 have all recently introduced new slalom wheels which are far superior in terms of design and speed to most slalom wheels from the old days. Overall, a lot has happened in a short period of time and things will keep happening as long as the demand is there. Right now there is plenty of it.

All this sounds really promising. Will we see you in Germany someday again?

It all is looking really good right now. I am trying to visit Germany at least once a year but work has kept me for the past 2 years. My parents are still in Baden Baden and I still have a few friends left I'd like to visit, including you. On my next trip I'd like to see slalom in full swing again.

Thank you very much for this interview. Do you have anything to say I did not ask? Any closing words/comments?

You're welcome. Always follow your dreams and your vision, don't go by age,  you're never too old to start anything. Don't listen to others who are trying to limit you--in the end the only one limiting you is yourself.

Back to the Sk8Mag.
---
Last Update: